Jagten
Scenarie nummer 6 valgt af Simon
Jagten skrevet af Ask Agger
"He who fights with monsters might take care,
lest he thereby become a monster.
And if you gaze for long into an abyss,
the abyss gazes also into you."
- Nietzsche
To skrig skærer gennem tågen. To skrig fra mænd, der dør. Døden kom ikke naturligt. Der var tale om mord, dyriske mord, begået i had.
En pige i en snæver gade. Hun er bange, en tåre vansirer hendes stærkt sminkede ansigt. Hun holder sig forsigtigt til siden af gaden, søger ly i skyggen, mens hun på usikre ben forsøger at undgå de mange vandpytter, der fylder hullerne blandt gadens murbrokker. Hun passerer en sovende spritter. Hans lasede uniform er dækket af bræk, hans ånde stinker af billig rom. Han har glemt at lukke sine bukser, bemærker pigen og ser hans blottede lem, der i kulden ligner en lillablå orm. Fra en kloakrist betragter en rottes sultne øjne det blottede kød. Pigen får et chok, da et hus længere nede ad gaden pulveriseres af en granat. Hun knuger sin dukke, men hendes forfrosne fingre ryster i angst og mister deres tag. Som et spejl knuses hinden af is på vandpytten, og dukken forsvinder ned i det grumsede vand. Fra mørket stirrer fire par sultne rotteøjne på den skrøbelige krop.
Det er efterår i London, 1951. Over hundrede tyske divisioner har lagt en jernring om imperiets hovedstad. Belejret på tredje år er forsvarerne på sammenbruddets rand. Kun Churchills stålsatte forsvarsvilje holder håbets lys tændt.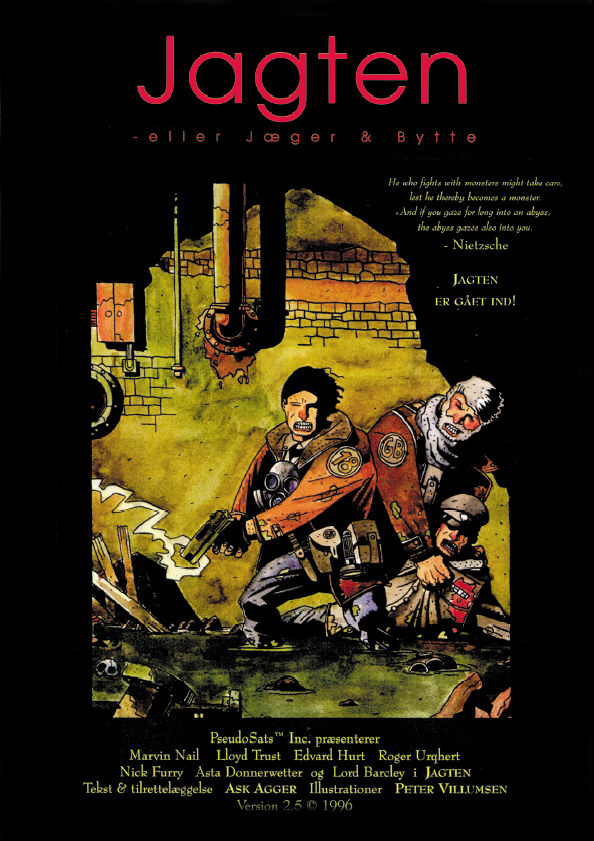 page revision: 1, last edited: 11 Mar 2010 12:36